In 2022, geopolitical conflict, extreme weather events, and soaring costs squeezed profit margins for food and beverage companies. How did these macro uncertainties impact priorities? What will define food production over the next 12 months? And how can you prepare your business for new influences?
Acumatica commissioned market research firm IDC to survey food and beverage companies around the globe. The resulting report, Globally Food and Beverage Industry Trends & Insights 2022, are available on Acumatica's website. The six most important findings from this market research are detailed below. Alternatively, you can jump directly to our entire industry outlook for a deeper analysis. 
1. The best employees will be hard to find in the future. 
Labour shortages will be a significant challenge for the food industry in 2022. The situation will be around for a while: 35% of companies surveyed in 2023 predicted they would continue to face a shortage of skilled labour. 
Talent shortages in many industries have led to companies rethinking their infrastructure, resulting in fewer employees. Automation can free up workers to focus on higher-level tasks. A digitally savvy workforce will help you attract new customers. How do food companies recruit employees using technology? A new report examines this question. 
2. Digital transformation is becoming a reality. 
Food manufacturers, producers, and distributors are now transforming their operations through digital transformation. 45% of them have already seen vital performance indicators improve through digital optimization projects. 
If your organization still uses paper-based processes, it's time to begin a digital transformation. Review existing software and plan the next project to automate time-consuming manual tasks that frequently cause errors. 
3. Efficiency measures can help offset rising costs.
As the cost of materials and energy rises, a third of food companies will focus on operational improvements in 2023. Your digital transformation strategy should focus on increasing efficiency. Invest in technologies that reduce waste and increase profit, such as stock optimization. 
When choosing a technology partner, selecting one that understands your business priorities is crucial. Haase and Macek discussed identifying critical business goals, pain points and process improvement targets that can dovetail with strategic business objectives and technology roadmaps. 
4. Supply networks must be strengthened.
Supply chains are still a major weak point for many businesses, with three in ten food firms struggling with supply chain visibility and flexibility. Supply-chain resilience is essential to ensuring business continuity. Effective demand planning and inventory management lead to better integration with business software, which can help track material requirements and optimize production from beginning to end. 
5. More businesses will outsource their work.
Food manufacturers and businesses are increasingly outsourcing tasks to other companies to grow their enterprises. A recent survey found that three-quarters of companies outsource at least part of their production. When outsourcing, selecting a company with which you can build a trusting relationship is crucial. It is essential to share data and process information to coordinate effectively. The goal is to maximize production capacity without sacrificing quality. 
6. Consumers are looking for sustainable products.
As consumers increasingly demand that food companies operate sustainably, many producers, manufacturers and distributors respond by making sustainability their top priority. You should set, track, and report on key performance indicators (KPIs) that matter to your customers. A sustainability business playbook can help you create meaningful sustainability goals. 
Acumatica Cloud ERP is an integrated business platform that streamlines processes and enables companies of all sizes to transform their operations. The most flexible enterprise solution for growing small and midmarket businesses, Acumatica allows companies to manage every aspect of their business digitally, from finance and accounting to sales and supply chain management.
Tayana Solutions is a comprehensive software consulting firm specializing in manufacturing and process industries. We work with Acumatica as an ISV Partner, providing Gold Certified VAR services. Please visit our website at TayanaSolutions.com to learn about our approach to digital transformation.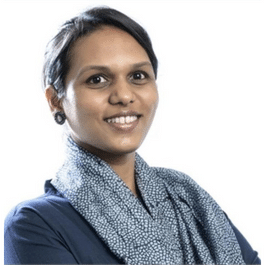 Sangeetha brings 20 years of experience in Information Technology which includes Solution architecting, building micro services, research, and evaluation of business applications, integrating apps.