Acumatica Cloud ERP software makes it easy for your business to grow. You can make decisions based on real-time information to drive profitable growth.
ERP systems have had a significant impact on food companies' technology. Food processing companies increasingly turn to ERP software to help manage their operations. Here's a look at what ERP software can do, how to choose it, and how it fits into the growing digitalization of the food industry.
How does ERP software help companies digitize their food operations?
An ERP system is a software program that automates many business processes. It has been around for many years but has never been more critical than today.
The digitalization trend is changing the role of ERP: what was once a tool for operational business support has now become an essential strategic building block.
When you want to build a B2B online store for your customers or when sausage manufacturers wish to enhance the control of their filling machines, you can rely on ERP data to help improve your supply chain and production efficiency. If you want to tie blockchain and artificial intelligence into your digitalization strategy, or if you're going to build an intelligent food factory, you will need an ERP system.
They use ERP not only for routine tasks but also to make decisions based on digitized information from production–for example, deciding which product goes into which smoking chamber or minimizing losses in operation. By linking ERP data with data from other systems, companies could make better decisions more quickly and efficiently.
You must take advantage of all the digitalization opportunities and understand how Acumatica ERP can cut costs, or your business will suffer. Companies that have consistently digitalized their operations have long since abandoned using paper when working with their ERP systems.
Whether bakery products, dairy products, meat or beverages–ERP can help you achieve your digital goals. For example, by allowing you to whip your processes into shape, expand your business model or make production more agile.
One reason for the slow pace of digitalization is that many companies still use outdated or unsuitable ERP systems. A potential solution would be modern and efficient ERP software, forcing companies to change their systems.
What functions does ERP need so it can help a food company?
The food industry has many specialities, and ERP must be able to handle them all. But companies have high expectations, and their needs differ. While meat companies need a cutting calculation function, dairies benefit from integrated milk payment statements, and large bakeries attach importance to silo management.
Although companies differ in their needs, there are a few requirements that every company has.
Ensure that the system has no problems displaying and calculating recipes, bills of materials, and product calculations.
Getting essential information and key performance indicators from your ERP system at the press of a button can help you make better business decisions.
ERP software must provide precise cost information for all product components, including finished parts, joint components and byproducts. It allows the calculation of material and manufacturing costs and pricing decisions.
The software should allow you to enter variable weights for products. You will encounter price labelling problems if it doesn't, especially with non-equalized products.
Another essential criterion for market observers is the traceability of products. As consumers want to know the whole story of their food, they expect that companies provide them with transparency. ERP software should visualize these flows of goods and data, also for consumers at the shelves in retail stores.
Production planning must consider fresh goods' requirements to ensure optimal batch sizes. To make accurate predictions, you must include data from every value-adding stage. It mitigates the disadvantages resulting from sales data from retailers as the most crucial touch point frequently remains a black box.
When deciding on an ERP solution, it is essential to determine whether the chosen system will work for your company. One strategy only fits some businesses. A team of consultants with experience in these situations can help you get over the initial hurdles quickly and easily.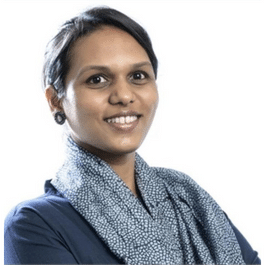 Sangeetha brings 20 years of experience in Information Technology which includes Solution architecting, building micro services, research, and evaluation of business applications, integrating apps.