Many medications must be stored in conditions where the temperature cannot fluctuate, which requires refrigeration. The problem here is that there aren't enough working refrigeration units to ensure ample supplies of medicines are kept at the correct temperatures.
Veterinary pharmaceuticals often suffer from the same problems as human drugs. While the formulations may not be the same, manufacturing animal and human drugs uses many of the same base ingredients.
The global supply chain breakdowns that have resulted in a shortage of commonly used medications for U.S. livestock producers and veterinarians are beginning to hit home as the prices of such drugs rise and supplies dwindle.
Reuter's news reported on a recent shortage of penicillin. Pat Gorden, an associate professor at Iowa State University and president of the American Association of Bovine Practitioners (AABP), commented on the current state of affairs. Gorden stated that veterinarians have struggled to find even a few bottles of injectable Pen-G.
Debbie Regier, office manager for Country Aid Vet Service in Wichita, Kan., said she has noticed that drug supply shortages have been a recurring problem since the fall of 2020. However, the situation has grown worse as the COVID-19 pandemic has worn on. Recently, Regier has not been able to access long-acting penicillin at all. 
Another shortage and scarcity of animals
The shortage of other food and animal drugs includes tetracyclines, flunixin and meloxicam. Companion animal practitioners also face a long list of drug shortages, including pentobarbital, commonly used in the euthanasia of pets and horses.
The U.S. FDA maintains an ongoing database of Current Drug Shortages of medically necessary animal products. The list sometimes – but not always — includes explanations for shortages and notes when supply issues are resolved.
Why do veterinarians face shortages of certain drugs? In many cases, medications used in animals and humans share similar bases, so when a drug used for humans is in short supply, it can affect the availability of veterinary pharmaceuticals.
Increasing Impacts of covid
Demand for amoxicillin to treat sore throats and ear infections in children has risen since the COVID-19 pandemic. To produce more of the drug, manufacturers have diverted some raw ingredients from their original use in making veterinary penicillin products.
A spokesperson for Irish veterinary drug manufacturer Bimedia Inc., Mary van Dijk, said a Chinese supplier of raw ingredients had experienced quality issues that took about six months to resolve.
According to Regier, several factors have contributed to the scarcity of veterinary drugs: suppliers cite altered manufacturing processes and labour shortages as reasons for drug scarcity; in addition to medication, she is having a tough time accessing surgical supplies and pet foods.
Controversy and negative image in the market
Another veterinary drug, ivermectin, has become the subject of controversy. Early news reports that Australian researchers had deemed the long-used veterinary anthelmintic effective in treating COVID-19 have caused a run on the drug, leaving livestock and pet owners stranded.
Another veterinary drug, ivermectin, has become the subject of controversy. Early news reports that Australian researchers had deemed the long-used veterinary anthelmintic effective in treating COVID-19 have caused a run on the drug, leaving livestock and pet owners stranded.
The shortage of ivermectin partly stems from the fact that doctors have increased their prescriptions of human-strength formulations of ivermectin. In August 2021, the U.S. Centers for Disease Control and Prevention recorded more than 88,000 human ivermectin prescriptions per week, compared to a pre-pandemic baseline of 3,600.
The increased demand for ivermectin also arose from online forums where people discussed how to dose the drug in humans. A New York Times article cites an example of a Facebook discussion where people advised each other to put the drug on a cracker with peanut butter.
Problems with stock or Inventory
The rising demand for ivermectin has led to higher demand, price increases and shortages for livestock producers and horse owners. Jeffers, a Dothan, Ala.-based retailer of animal supplies, raised the price of ivermectin paste from $2.99 to $6.99 per tube over the past year. Her supplier told a California horse rancher that she was 600th in line for the next batch of ivermectin due to high demand.
Veterinarians and livestock producers are trying to find alternatives to the products they traditionally use when unavailable. Regier said their veterinary practice could usually identify an alternative treatment option, but it often comes at a higher cost to the client.
AAVSB president Gorden, in an interview with the AAVSB Journal, said that the drug shortage has caused veterinarians to evaluate treatment protocols and customary practices. Most of the cases have been checked. In those cases, we've looked at alternatives to therapy. Also, we had conversations about whether this treatment is all that effective or needed," he stated. 
How Acu Process Manufacturing (APM) can help with supply chain industry problems
Animal medicine is not widely available due to issues with supply chains. In this micro-economy, our Acu Process Management team has identified a solution to tackle supply chain issues which will allow animal medicine to be more widely available. We have also improved the quality control and testing processes for animal medicine manufacturing. 
Acu Process Manufacturing can help companies produce animal medicine in the United States. We help them in producing small batches of complex pharmaceuticals.
Why should you contact us?
Acu Process Manufacturing is a business process manufacturing software extension of Acumatica Cloud ERP. This extension has the following features:  
Providing comprehensive and complex features specific to the process manufacturing industry.
Optimized to suit manufacturing-based enterprises (Contract Manufacturers) with a high mix, low volume production model.
It leverages the accounting, sales and purchase capabilities of Acumatica.
About Tayana Solutions
Tayana Solutions specializes in the Process Manufacturing domain, catering to their unique demands not understood by general manufacturing products. Contact us if you are a compassionate & reasonable service provider to experience the benefits of digital transformation." Contact us now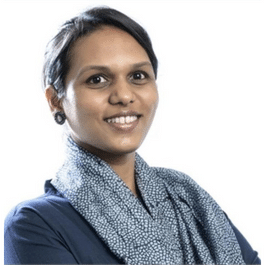 Sangeetha brings 20 years of experience in Information Technology which includes Solution architecting, building micro services, research, and evaluation of business applications, integrating apps.