This is a series of blogs about dealing with errors related to veterinary drugs and how to deal with these errors with the help of suitable manufacturing software. We publish the latest articles that include FDA's new rules and regulations that your veterinary drug manufacturing business. You can subscribe to our upcoming blog article.
We, Tayana Solutions, provide cloud Erp solutions, and process manufacturing software's called Acu Process Manufacturing (APM), Connect now for a demo. click
The FDA works to prevent drug errors. A drug error is an error that can lead to inappropriate use of a drug or a patient's harm. Such errors may be related to professional practice, health care products, procedures, and systems, including prescribing; order communication; product labeling, packaging an: prescribing; order communication; product labeling, packaging an: prescribing; order communication; product labeling, packaging an: prescribing; order communication; product labeling, packaging, and nomenclature; compounding; dispensing; distribution; administration; education; monitoring; and use.
Veterinary medication errors and the threat they pose to public health
The Center for Veterinary Medicine (CVM) in the Food and Drug Administration (FDA) monitors issues that affect both animal and human health, including veterinary medication errors. Such mistakes may be caused by misinterpreting a drug's label or by substituting one drug for another. Misinterpretation of drug labels can harm an animal's health; mistaking one drug for another may also pose a threat to human health. For example, food-producing animals may be given medications that contain unacceptably high levels of residues that would be unsafe for human consumption; also, improper handling of animal drugs could result in toxic exposure to humans who handle the medications.
Medication errors are often caused by one or more of the following:
Confusion of drug names that sound alike or lookalike
Poor presentation of information on prescription-drug labels can confuse patients.
Poor design or inadequate instructions in drug dosage devices
The use of abbreviations and symbols that are prone to error on written prescriptions
Handwritten prescriptions are difficult to understand.
The physician's miscommunication led to an improper prescription.
Product defects may result in accidental exposures and potential harm to the patient
Improper storage or disposal of drugs could lead to accidental exposure to a drug and subsequent overdoses.
These errors are easily traceable with our Acu Process Manufacturing (APM) software, its advanced features will help to take note of actions with APM. To see how this works, schedule a demo call. Schedule Now.
Medication errors are preventable and CVM is committed to helping veterinaries to avoid them.
The Office of New Animal Drug Evaluation (ONADE) – which is part of the Center for Veterinary Medicine (CVM) – evaluates drug names, labeling, packaging, and product design prior to drug approval. ONADE also consults with CVM's Office of Surveillance and Compliance on these aspects of the drug product. After a drug is approved and marketed, the Office of Surveillance and Compliance monitors the post-approval experience with the drug and overall safety profile, including a review of adverse drug experience (ADE) reports that may describe a medication error as a possible contributing factor to an ADE. Evaluation of these reports leads to label/package design improvements and/or reassessment of the drug name and other potential sources of error associated with the drug.
In addition, the CVMA offers outreach to the public on preventing medication errors and injuries through various publications, such as this one, and in presentations to veterinary groups. For example:
Drug names are evaluated according to the criteria in the scientific naming system: Drug names are significant identifiers, for the reason that a blunder in the name can prompt patient harm. For instance, the wrong medication can be given to the patient in case of mix-ups with pharmaceutical names. In the event that you need to review drug names, CVM considers potential safety issues, for example, likenesses and sound identifications of drug names.
Formulating and naming various drugs with many properties is a complex process to keep track of. It's impossible for human beings. But using our Acu Process Manufacturing (APM), operations like formulations, naming, documentation, inventory tracking, allergy rules, expiry date management, etc., are easy to perform. You can have a detailed demo on this call. Join now.
Drugs and their packaging can be dangerous: The drug label is a document that both veterinarians and animal owners must read before prescribing or administering a drug. The label provides vital information about the drug, including:
proprietary and established names,
Drugs and alcohol are a dangerous combination.
Dosage form There are different kinds of dosage forms.
route; administration
The container had a quantity of pepper.
A lot number is a number that identifies each individual package of a product.
Expiration dates appear on most food products.
After a new animal drug has been approved, we evaluate its labeling to ensure it contains appropriate and accurate information. First, we examine the label on its container and carton, then the separate package inserts, and finally the instructions for use. We also evaluate the design of the packaging to ensure that the packaging is easy to open and close and that it seems simple to understand.
In the next "veterinary errors" publication series, we'll publish examples of medications errors. Stay tuned… Subscribe to this series.
Conclusion:
Your veterinary drug manufacturing business must be aware of these updated FDA regulations. Considering that you need a futuristic ERP like Acu Process Manufacturing (APM). It is the best solution for managing your business hustle free. If there is any confusion, get a no-cost consultation with Industry experts. Connect now
Short Summary about Acu Process Manufacturing
The Acumatica xRP platform is like a Swiss Army knife for businesses. It's a versatile architecture framework and application development platform that uses the world's best cloud and mobile technology.
Tayana is an ISV partner of Acumatica, and it uses the xRP platform to build solutions tailored to different industries, including process manufacturing. Tayana has built a complex inventory solution that makes it easy, flexible, and scalable to have an inventory management system integrated with Acumatica's accounting, sales, purchasing, and other software capabilities.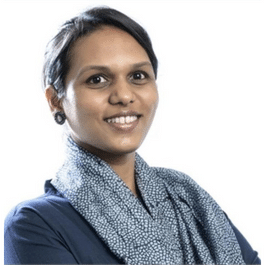 Sangeetha brings 20 years of experience in Information Technology which includes Solution architecting, building micro services, research, and evaluation of business applications, integrating apps.