Evaluating your food and beverage manufacturing company's systems for production and distribution is a complex task. To begin, you need to talk to your staff about their experience with the existing setup, noting where it works well and falls short. However, this provides only part of the picture; you'll also need to talk to other key players in the business.
Unfortunately, there is no clanging alarm or glaring "check engine" light to notify you when your food and beverage business technology is outdated and needs an upgrade. However, there are more subtle signs of picking up on that can tip you off to the necessity for intervention and improvement—you just need to know what to look for.
With digital transformation, we've compiled a list of eight signs that should indicate it's time to rethink your approach to digital transformation.
1. Siloed information and lack of visibility
You face a problem when you don't know where to look for critical data or which departments have the information you need. It often occurs when departments use homegrown systems or different software solutions.
The situation is a perfect use case for enterprise resource planning (ERP) technology. ERP solutions act as unified databases and "single sources of truth" for organizations, providing all relevant facts and figures at employees' fingertips to act with agility and confidence in their day-to-day responsibilities. 
2. Frequent stoppages in production
Production stoppages can negatively affect your business's success by disrupting your daily production attainment goals and causing a chaotic mess on the shop floor as team members scramble to identify the root cause of the issue and rectify it.
OEE software provides real-time performance results, allowing you to see how your equipment and personnel perform. You'll also be able to identify the source of your most frustrating production-related problems and ensure they're addressed for improvement.
3. Shortages in the Crunch
When you are faced with a demand surge or influx of new orders and do not have sufficient stock on hand to meet demands, you may be in a bind. You don't need to disappoint customers or turn down opportunities for additional revenue, but if replenishment isn't already on its way, you have no other choice.
In the food manufacturing industry, ERP systems offer robust inventory management tools that help track what's in stock and what you're running low on. Advanced platforms, like Tayana's ERP software for food manufacturers, even have automatic reordering functions that can be set to replenish your supplies, and you fall below a specified threshold, giving you extra peace of mind. 
4. Product Development Missed Opportunities
To stay up-to-date with today's fast-paced food and beverage market, you need software to help you develop new food products. You also need to ensure your product development process is optimized, so you don't miss out on potential profit.
A product lifecycle management solution built for food and beverage manufacturers streamlines the process of creating new products by enabling all departments involved in launching a new item—from research and development to marketing—to operate from the same "playbook" of product specifications. The software also has dedicated features for compliance and accelerates your time to market by automating many processes.
5. Excessive waste can lead to spoilage.
In addition to the financial impact of spoiled ingredients, discarded products represent a loss in sustainability efforts. It is because both situations affect your bottom line. The former is closely related to profitability, affecting brand reputation and how today's discerning shoppers perceive you. 
A food ERP inventory management module can help you manage expiration dates and freshness ranges. A first-expiry, first-out (FEFO) picking method ensures you get the most out of your goods. At the same time, OEE software indicates where equipment malfunctions or erroneously calibrated settings result in scrap and rework so that the staff can intervene and the error does not reoccur.
6. Delivery delays and other logistical problems
Due to increasing public health concerns, worker and material shortages, transportation delays and international relations, the global supply chains of many industries—including the food and beverage industry—have been disrupted. It can greatly hamper how well your organization functions.
As a food and beverage business, you rely on your supply chain to ensure that the ingredients, packaging materials, and finished goods arrive when needed. Modern ERP software gives you full supply chain visibility, keeping you apprised of any hold-ups and when you can expect shipments to arrive. And suppose your manufacturing business also handles the distribution of your goods. In that case, Route Optimization software like Routing & Scheduling can optimize your routes—saving your money on fuel and helps ensure that every delivery arrives on time.
7. Product safety and quality are concerns because
You've previously mentioned the importance of product safety and quality, which are crucial for maintaining a strong reputation in the market. Can you say that with certainty that your current food manufacturing software solutions is actively aiding you in achieving optimal results on these fronts? 
To ensure that you meet the growing food safety regulations around the world and remain compliant, you can benefit from a food safety system that helps you enforce proper standards, reminds workers to complete all steps of the manufacturing process, and allows for bidirectional traceability. It can assure your business's practices while speeding up contamination isolation should an emergency occur. Allergen management tools also help protect sensitive consumers from potentially adverse effects and negative press that might generate. 
Integrate electronic manufacturing equipment with sensors, the system can monitor cooking and cooling temperatures and product consistency to ensure that everything rolling off your lines will delight customers and deliver a satisfying experience.
8. Lack of Actionable Insights
In the competitive food and beverage industry, if you do not seek ways to improve your product and hone your key differentiators, it is more difficult for you to emerge from the pack and claim a slice of the market. Complacency can hinder success in this way.
A demand forecasting tool, powerful financial analytics, granular efficiency metrics and data on emergent sales trends are just some features that an intelligent ERP platform can provide. Consider adding business intelligence software to your arsenal to track more than 300 built-in key performance indicators (KPIs) and use machine learning to understand how changes in your processes can bring about measurable improvement.
Tayana Solutions provides end-to-end software consulting, from e-Commerce, vendor portal, and multi-warehouse management to production control and quality assurance. We specialize in process manufacturing and have gained a reputation for success in this area. We are a Gold Certified partner of Acumatica, with extensive experience implementing Acumatica applications.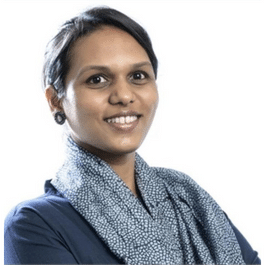 Sangeetha brings 20 years of experience in Information Technology which includes Solution architecting, building micro services, research, and evaluation of business applications, integrating apps.