Cloud ERP software helps you streamline your business processes and reduce operational costs by using industry best practices and automated workflows and enabling real-time visibility into your operations.
Here are the top five processes to boost your pharmaceutical manufacturing process.
Acu Process Manufacturing Cloud ERP helps enrich the pharma industry's topmost process. Complete help in drug formulation, securing formulas and recipes, reducing costs, and controlling granulation methods.
Formulation Process in pharma manufacturing
The pharma industry has been working towards ensuring its products remain safe, effective and pure throughout the supply chain. It provides this; pharma formulations require careful attention to dosage form, pH/solubility of API, taste-making enteric coatings, special stability requirements like freeze-thawing, heat and humidity extremes etc. The formulation team has to balance product performance and costs for the finished product.
Blending process in pharma
Blending is an essential part of the pharmaceutical industry. Many excipients may be blended with the active pharmaceutical ingredient used to manufacture a solid dosage form. Absolute cloud ERP for the pharma industry reduces costs while maintaining product efficacy. 
Milling
The milling machine is an automated system used in the pharmaceutical industry to make drug powders and fine particles. The machine takes raw material and breaks it down into smaller sizes so that the powder can be used in tablets, capsules or other delivery methods.
In drug manufacturing, milling is a process that helps to reduce the average particle size in a drug powder, resulting in increased homogeneity, dosage uniformity and bioavailability of the final product.
Granulation Process in pharmaceutical
Our granulation software is purpose-built for fluid bed granulation in pharmaceutical industries. The term "granulation" is a generic description where two types of granulations are involved, namely wet & dry Granulation. This software gives you absolute control over your entire granulation process leading to optimized production and increased revenue.
Hot-melt Extrusion in cloud ERP
The pharmaceutical industry is using Granulation to increase production efficiency. APM ERP software for the pharmaceutical industry to control systems are purpose-built for fluid bed granulation and has granulation functionality that spans all aspects of the process, including raw material management, batch management, and finished goods management. Patented technology maximizes throughput by automating critical operations.
Acu Process Manufacturing ERP for Pharmaceuticals Industry
Acu Process Manufacturing has a range of software modules backed with ready-to-use software, efficiently integrable modules, and Customization of software has never been this easy before!
APM featured for Planning and production
Optimizing the manufacturing process is balancing production with customer demand and short-term profitability. This course covers tools and techniques to help you achieve these objectives by making your planning, production scheduling and equipment decisions based on forecasting data. You'll learn to manage all the concurrent tasks required in any large-scale manufacturing process and improve your manufacturing efficiency metrics.
Easy to manage the production process
Manage your production line with configuration and process management. You can track, move and change your products through the production line. We offer tools for managing Bills of Material (BOM), Engineering Change Requests (ECRs) and Engineering Change Notes (ECNs).
A production planning and control system is a proven method of effectively managing change in the parts and components of a product. And when these changes are communicated to the supplier, they provide an efficient way to share the need for and impact of revisions to manufacturing processes.
Total Quality Management and Checklists
Quality management is a combination of processes, procedures and actions designed to ensure the delivery of a quality product or service. Quality management is a process through which an organization assesses how well it meets customer requirements and takes necessary actions to maintain or improve its performance.
Quality is a vital part of our approach to product development, and we ensure that there are quality checks in all the right places to provide our customers stay happy. Our internal processes include the following:
Accessible and Insightful dashboard feature of APM
The dashboard is highly customizable and has many widgets that can be added to your dashboard. The Business Intelligence Tool allows for creating metrics, reports and dashboards that can be shared with any users in the organization. Department-wise Dashboard is available to help you view data from all perspectives, including cost centre, expense centre, revenue centre or any more custom configurations. A Document Management System is in place to store all documents about financials, such as purchase order details and expense voucher approvals, making them readily accessible by all relevant parties without having to perform an intensive search for all these records. Alerts and Notifications ensure that no financial transactions go unnoticed by using detailed notifications sent via email or text alerts.
Advanced CRM & Order Processing System
CRM and Order Processing is a web-based system designed specifically for salespeople. It allows you to manage leads and opportunities to close. The system handles everything from price matrices and discounting to forecasting sales, managing territories and marketing campaigns by automatically sending out promotion codes, special offers and more.
Whether you're operating at a small scale with one or two sales agents or managing an enterprise team of hundreds, we'll combine machine learning and best practices with helping automate your sales processes. Our open-source CRM software provides a single platform for lead capture and management, opportunity tracking and forecasting, product pricing, selling strategy production & profitability analysis.
Complete Finance Management in one place
The Finance Management module is a comprehensive solution that provides you with complete control of your financial aspects. It is a robust but easy-to-use system which comprises a set of tools designed to give you full control over your financial management. The core of the Finance Management module lies in its Accounting Evaluation and Reporting capabilities been created over the years by our skilled and experienced professionals.
Instantly, our financial management solution helps you to only pay what is due and get your payments done right. Our intuitive and powerful accounting solution lets you stay on top of your business like never before.
In-depth purchase order management
The Supplier Purchase Management module is integral to your supply chain management process. It deals with sourcing inputs from suppliers and managing the vendors' performance by tracking the progress of orders and shipments and enabling the management of supplier relationships.
A centralized, approved, and automated business process provides a single electronic system for customer acquisition, order management and purchase management. The solution is primarily for large businesses and supports several thousand supplier relationships with a volume exceeding $110 million.
Inventory Management Solutions with cloud ERP
Gain more control of your inventory with our robust inventory management software. Quickly and easily display any item in a clear, understandable format while storing it securely in your data centre. When you need to plan and expand your business, stock management software allows you to trace and report on multiple levels of product information, including history and quantity so that you can plan effectively.
With this feature, you can plan and manage your inventory, store and retrieve items from warehouses, and more.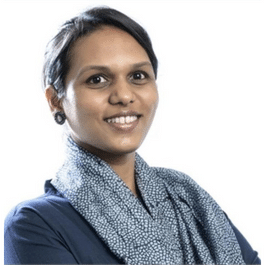 Sangeetha brings 20 years of experience in Information Technology which includes Solution architecting, building micro services, research, and evaluation of business applications, integrating apps.