In the world of food and drug compliance, penalties for non-compliance can be severe.
The medical device regulations set forth in 21 CFR Part 820 can be difficult to follow. However, companies that lead the medical device market do so because they implement this knowledge to produce safe products for patients.
Medical device companies depend on regulatory affairs professionals to ensure that the company complies with federal regulations such as 21 CFR Part 820.
This step-by-step guide offers a comprehensive introduction to 21 CFR Part 820 and examines the regulations in detail, explaining how to comply with them. Throughout the manual, you'll find answers to specific questions, such as those above, and information on common errors that manufacturers make so that you can avoid trouble.
To begin our discussion of FDA regulation of medical devices, we should first look at the basics of 21 CFR Part 820.
21 CFR Part 820 is a US Food and Drug Administration regulation whose purpose is to establish general principles for the safe manufacturing, processing, packing, or holding of ''food'' and to protect public health by establishing the conditions under which food is manufactured, processed, packed, or held.
Medical device manufacturers must adhere to 21 CFR Part 820's (CGMP) Regulations as part of their quality management system (QMS), the dictates of which ensure that they deliver safe, effective, and compliant products.
Part 820 of 21 CFR applies to every aspect of human-use devices, including their design, manufacture, packaging, labeling, storage, installation, and maintenance.
1. The FDA's 21 CFR Part 820 sets the latest standards for food-quality systems. Review these and other tips to ensure compliance
See 21 CFR Part 820.10 (Quality systems) (a) General quality system requirements; in addition to the general requirements, 820.10(b)(1)(v) through (xiv) address specific quality system requirements for:
21 CFR Part 1 has three primary sections. Section 1.1 discusses management responsibilities for writing policies and procedures, and planning activities in your facility. Section 1.2 covers quality audits, and section 1.3 discusses compliance with regulatory requirements.
To meet the requirements of ISO 9001:2015, you will need to be using quality management software (QMS) that manages quality documents and conducts regular audits. A QMS can also help you improve your processes, encourage teams to be responsible for managing their own quality and compliance risks, and create a culture of quality.
2. The Design Controls final rule, 21 CFR Part 820 Subpart C, prohibits design elements that present a high risk of recurrence of device failures
Federal regulation 21 CFR Part 820 Subpart C establishes rules for designing pharmaceutical products, including – planning, designing, review, validation, change management, and maintenance of design history records. The most common mistake made during the design process is that organizations fail to establish design controls in a timely fashion. This delays the creation of relevant data.
Organizations should identify the pattern of critical processes, configure workflows accordingly, and collect necessary data on time to make informed decisions.
3. Title 21, Code of Federal Regulations, Part 820—Document controls
21 CFR Part 820 Subpart D establishes procedures for managing controlled documents throughout the product lifecycle. These procedures help ensure compliance with federal regulations by ensuring that controlled documents are only created, reviewed, approved, distributed, and changed in a specified manner.
Consider a digital document management system to simplify your document control processes. A DMS can help your teams proactively manage documentation-related processes while ensuring organization-wide distribution of these documents on time. A DMS that supports digital signatures can also help you meet compliance standards.
4. Part 820 of Title 21 of the Code of Federal Regulations: Purchasing Controls
The FDA has in place a purchasing policy and regulations, outlined under Subpart E of 21 CFR Part 820 that are supposed to be followed by all U.S based companies. If a company is not following these rules, it may be subject to major penalties and fines. If you would like more specific information regarding the requirements outlined in Subpart E, please contact a licensing professional at ABC Licensing Company. The most common mistake made by companies is failing to understand the regulations regarding supplier qualification before onboarding new suppliers.
Consequently, companies should invest in specialized software that automates supplier quality management. This will help them streamline the processes involved in selection, onboarding, and auditing suppliers. Adhering to the approved supplier list, you can also prevent security leaks with better data security compliance.
5. 21 CFR Part 820 Subpart F is a U.S. regulation for identifying and tracing prescription drugs
Under 21 CFR 820, Subpart F requires medical device manufacturers to adhere to a "closed-loop quality system". In the context of identification, this means avoiding medical errors; in the context of traceability, it involves tracing defects back to their source. Unfortunately, many companies find this challenging due to decentralized and disparate systems that impact traceability.
For medical device companies, the best solution is integrated quality management software that can help them create a closed-loop quality system. This kind of software will help companies identify and manage inconsistencies in their system by creating a centralized platform for managing traceability.
6. 21 CFR Part 820. Subpart G specifies how a team must implement production and process controls
The 21 CFR part 820 subpart G focuses on production and process controls. These controls include inspection, gauging, testing equipment (calibration and maintenance), and process validation. The key challenge is creating a validated system so you can deliver high quality products every time.
Quality management software streamlines the process of creating validated processes and systems. It helps ensure quality at every stage of production, removing any hassles that may interfere with the production process. In short, a quality management system ensures repeatable processes for inspection, calibration, and maintenance.
7. 21 CFR Part 820, Subpart H details the procedures for acceptance activities
Section 820.90 sets forth requirements for accepting devices during the manufacturing process. This includes acceptance of receiving, in-process, and completed devices as well as the regulations for approval. A mistake commonly made by companies is failing to implement a standardized inspection management system. Such a system can prevent the failure to identify nonconforming material or the need for material reinspection.
Managing inspections manually is time-consuming, and the likelihood of errors is high. Investing in inspection management software can streamline your processes while saving time and money. The software generates reports automatically, quickly identifying trends and allowing you to make informed decisions that impact your bottom line. This software is easy to use, and stores all the relevant information so you can easily access it later.
8. Briefly, 21 CFR Part 820 Subpart I governs the importation of non-complying drug products
Part 820 of the US Code of Federal Regulations relates to nonconforming products. These include medical devices whose quality falls below expected standards, as well as products that are manufactured incorrectly. Under 21 CFR Part 820, medical device companies must develop and enforce procedures for identifying and handling such problems.
For many companies, nonconformance management software helps streamline nonconformance workflow to properly contain, dispose, investigate, and resolve defects and deviations. Meeting compliance with applicable regulatory compliance can also be important to help ensure a company's reputation.
9. Subpart J of 21 CFR Part 820 establishes general requirements for Corrective and Preventive Actions (CAPAs)
We provide guidance in Subpart J of 21 CFR Part 820 on corrective and preventive action, better known as CAPA. CAPA is a method to ensure that structural flaws in the manufacturing process of medical devices are addressed before they lead to device failure. The difficulties in implementing CAPA include categorizing events into high priority, medium priority, and low priority.
Quality issues can be addressed in a holistic way by using powerful CAPA management software. A risk assessment and analysis help identify the root causes of issues, and an action plan is developed accordingly. The software adequately handles the documentation required for CAPAs, so you need not worry about documenting the details manually.
10. 21 CFR Part 820 Subpart K specifies FDA requirements for labeling and packaging of drugs
Section 820.30 of 21 CFR part 820 covers labeling and packaging requirements for medical devices and describes labeling requirements, labeling inspection, storage, and operations. However, the most common labeling mistake companies make is applying blanket rules for labeling the devices. This will lead to severe consequences when a device requires sterilization.
It is important to highlight critical information on labels as prescribed in FDA guidelines for proper packaging and labeling. In addition, it is important for companies to train and educate their staff about proper packaging and labeling. Finally, it is essential to understand that the importance of labeling may vary from device to device.
11. 21 CFR Part 820 Subpart L governs the handling, storage, and distribution of non-food-grade carbon dioxide
Federal regulation specifies the handling, storage, distribution, and installation of products. Part 820 of Subpart L of 21 CFR (Code of Federal Regulations) covers storage and distribution requirements. The issues that arise in this area are common because specifications are not clearly defined. Therefore, medical device companies should carefully define all requirements related to storage and distribution to avoid conflict with regulatory agencies later on.
To store documentation related to both internal and external requirements, companies should have an integrated quality management system. Centralized software will make it easy for quality teams to access all necessary information, making information sharing easy.
12. 21 CFR §820.180-200—Recordkeeping Requirements for Food for Human Consumption and for Animal Food
If you need to know the requirements for keeping records, you'll find them in 21 CFR Part 820 Subpart M. The regulations cover general conditions, quality system records, complaint files, and the device master record and device history record. You'll also find information about what sorts of records should be kept confidential and for how long.
Medical device companies should have document management software that provides scalable storage space, supports all compliance-related functionalities and allows users to define the retention period of controlled documents.
13. 21 CFR Part 820 Subpart N applies to the servicing of equipment
A manufacturer's responsibility under 21 CFR Subpart N is to maintain instructions to perform and verify servicing of its devices, analyze service reports, identify reports that need to be filed as a complaint, and document all the reports. A common mistake is not maintaining enough records to verify service.
Medical device companies that manage services-related documents can improve compliance reporting and increase efficiency with the right eQMS software. This allows for uniform information flow.
14. 21 CFR Part 820 Subpart O describes statistical techniques in research studies
The U.S. Code of Federal Regulations (21 CFR) part 820 subpart O is a compilation of stipulations that manufacturers are bound by when determining, verifying, or maintaining the processes and characteristics of the manufacturing processes in their facilities.
From all the requirements mentioned above, it can be estimated that medical device companies need powerful enterprise quality management software that can help them manage all the critical processes in a closed-loop system. In addition, a culture of quality and continuous improvement can be created by implementing such a solution. However, finding the right solution to cater to growing business requirements can be a little challenging.
We have a wealth of experience in providing solutions that meet FDA and ISO requirements with our two cloud ERP solutions.
Book a demo for Acumatica Cloud ERP.
Book a demo for Acu Process Manufacturing Software.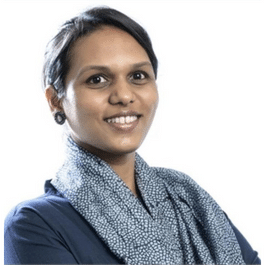 Sangeetha brings 20 years of experience in Information Technology which includes Solution architecting, building micro services, research, and evaluation of business applications, integrating apps.