Biotech companies developing drugs for the first time often face difficulties in creating formulations of the drug that will be safe for humans.
Formulation development is not only important in the early stages of drug development, but also plays an important role in a promising investigational medicinal product's future market success.
This article provides a practical introduction to the process of formulation development, including aspects relating to early phase clinical trials. It helps biotech companies understand this key process within the whole drug development journey.
Understanding Drug Formulation
A drug formulation is essentially a combination of the API, other components necessary to make the drug, and excipients (auxiliary substances, such as binders or fillers) all put together in some type of dosage form that is compatible with patients' habitats.
Drug formulation development is important to the future of medicine
Formulation development is an important process that has to be taken seriously. It involves designing a proper method of dispensation and presentation of the drug which can both satisfy the patient's need and preserve the efficacy of the drug.
In 2018, Axis Wire reported that Informa Pharma Intelligence, Rentschler Biopharma SE, and Leukocorias AG conducted a survey to get a better understanding of how the formulation process is carried out in the drug product development process.
The survey drew input from a diverse group of participants with direct experience in the biopharmaceutical industry.
A wide range of professionals from the pharma and biotech industries participated in the survey, with clinical development and drug product development being the most common profiles.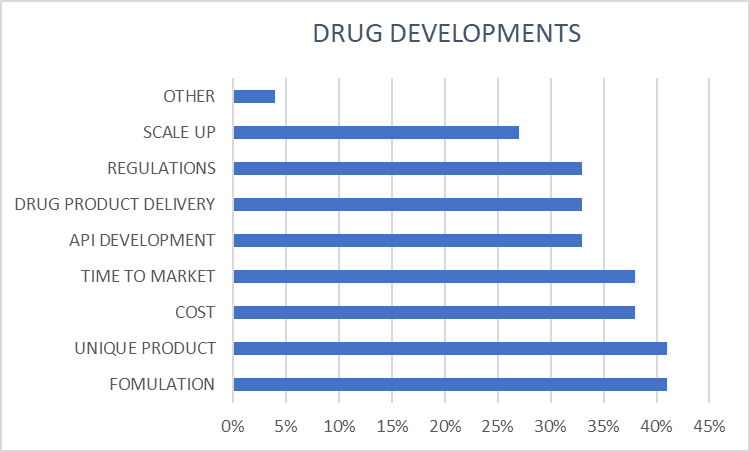 Important factors in the formulation development process
Physical form is a critical component of drug formulation planning. The physical form refers to the makeup, structure and state of a product brought to market.
Because simplicity and ease of administration are important in order for a medicine to be used successfully in clinical trials and the clinical setting, medical researchers must choose a form of medicine that meets these priorities.
Chemical and pharmaceutical companies must carefully consider how a drug will be dispensed and packaged, so patients are kept in mind throughout the entire research and development process.
Our Acu Process Manufacturing can help you in identifying the factors through continuous tracking and formulations features. Let's connect for the demo
The various types of drug dosage forms available on the market are:
Biotech companies can consider options such as capsules and coated tablets for solid drug delivery systems. Oral fluids and injectable liquids are examples of pharmaceuticals.
Drugs not taken orally fall into various categories. Such examples include topical drugs, such as creams, gels, eye drops, nasal drops, inhalers, and others.
For further information about dosage forms, see the presentation by S. Bohlooli.
Drug pre-formulation studies are studies conducted before the drug is developed.
Pre-formulation is a group of studies that focus on how the physicochemical properties of a new drug candidate might affect how and what the dosage form will look like.
This information could be used to modify the formulation or to support the need for additional research.
In pharmaceutical formulation, the intrinsic properties of drugs are considered before the development of an appropriate formulation.
This property allows for the combination of drugs with other ingredients during the manufacturing process to produce a dosage form.
One goal of pre-formulation studies is to establish kinetic rate profiles for drug substances as well as to establish the physical and chemical properties of the drug substance.
A pre-formulation study includes several properties, including drug solubility, partition coefficient, dissolution rate, polymorphic forms, and stability.
In every process industry formulation is the core and difficult operations to manage. At every stage of drugs formulations Acu Process meets the need. To see the implementations. Connect now
Drug formulation challenges in early phase development include:
It's common for early drug development programs to encounter stability and bioavailability problems.
Product stability refers to the ability of a drug to remain within its allowable parameters over time.
Bioavailability is the rate at which a drug becomes available to the body's systemic circulation. It is measured as the ratio of the amount of drug in the systemic circulation to the total amount administered.
The stability of a compound in solution may not be sufficient to administer it to a patient. The compound will need to be mixed with another substance to strengthen its stability before it can be administered to the patient.
In addition, an inadequate (low) solubility can have a negative impact on bioavailability. Many new chemical entities and a high percentage of APIs under development are poorly soluble.
One of the important problems the biopharmaceutical industry faces today is optimizing drugs' solubility and bioavailability.
Several new compounds in late-phase clinical trials are not meeting study objectives because of low bioavailability.
Why should you consider the later stages of clinical trials when beginning a drug development program?
Formulators must consider the implications of late-stage development and manufacturing requirements to ensure that a drug candidate is in the best form for late-stage clinical trials.
Formulations are often liquid because they maximize the bioavailability of a drug. However, the solid dosage forms used in late-phase clinical trials and in the actual clinical setting must be carefully considered during development due to the difficulty of reproducing solubility and bioavailability in more complex dosage forms.
How often are drug development failures or delays caused by formulation problems?
Drug manufacturers must understand formulation deficiencies can result in significant delays and failure of new drug candidates.
In the Informa Engage survey mentioned above, 60% of pharmaceutical and biotechnology professionals reported project failures or significant delays in the manufacturing process due to formulation challenges.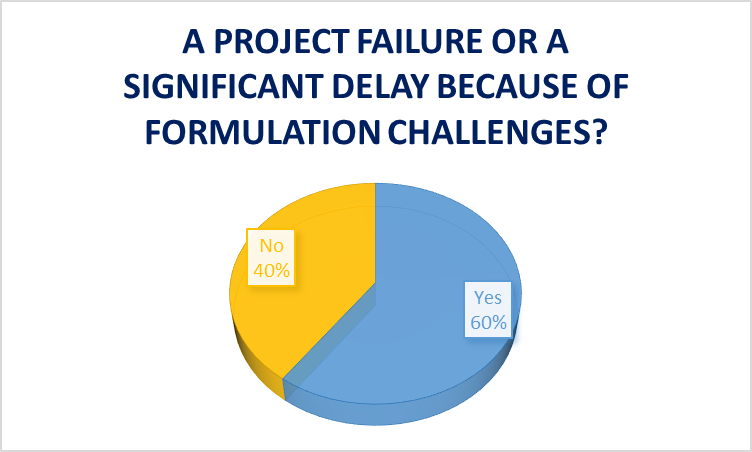 Approximately half of the respondents reported a delay of more than 12 months because of formulation issues.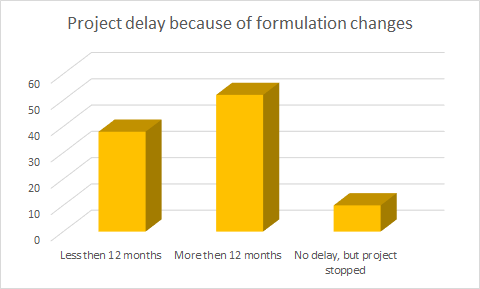 The data in this study shows the impact that formulation development can have on a drug development program.
Drug de-formulation studies are used to determine how a drug works in the human body.
Biotech companies should outsource formulation development work for two main reasons: to accelerate the process and to access specialized knowledge. Development requires a lot of time, and biotech companies may not have the staff to complete such tasks; their formulation and analytical departments may become overloaded with projects. Moreover, timeline prediction in development projects requires expertise in assessing laboratory procedures — a skill that is hard to foresee.
Outsourcing can be effective, and a contract development and manufacturing organization (CDMO) may have the flexibility to assign staff quickly to new projects with pressing deadlines. A CDMO could also have deep knowledge about formulating and optimizing drugs, making it a reliable partner for pharmaceutical companies.
Summary In Short
A drug's success depends on its formulation. Challenges to formulating a drug include stability and bioavailability issues, among others. It is very important for biotech companies to keep late-stage development in mind when defining a drug's formulation from the very beginning. Outsourcing can provide companies with specialized knowledge, saving time and money in the development process. Finally, below you can find a presentation entitled "Enabling Formulation Technologies for Improving Oral Absorption of Poorly Water-Soluble Drugs" by Dr. Ping Gao.
We, At Tayana solutions provide in-depth experts advice and suggestions to choose in cloud ERP selection that not fulfill the requirements but also cost-effective, easy installation, multiple storage integrations and more. Let's talk further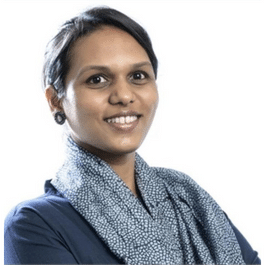 Sangeetha brings 20 years of experience in Information Technology which includes Solution architecting, building micro services, research, and evaluation of business applications, integrating apps.