Individuals are taught that constantly assessing their standing relative to others and comparing themselves and their peers can be unhealthy and detrimental behaviour. It is because of the negative feelings that such a mindset can create as they fixate on what they don't have and how others are more successful.
Regularly evaluating your organization's position over competitors is necessary from a business perspective. It is especially true in the dynamic and competitive food and beverage industry, where rival brands will likely move fast to overtake others and increase their market share.  
Food and beverage companies implement new technologies to increase agility and drive better results. To do this, they must own the power of data. Companies that have not made any progress on digital transformation should devise a plan for optimizing their efforts.
To help food and beverage businesses navigate this growing sector, we've recently launched our own Digital Transformation Assessment. The tool is user-friendly, and since the process takes only minutes to complete, you'll have actionable insights in no time.  
This post will show you how to complete the assessment and interpret your results. We'll also discuss their meaning and how they can help you make crucial decisions.
Assessment
We will ask you to complete a series of brief assessments in 8 different categories to assess your skills, each requiring a few responses. The following describes the types of questions you will encounter and the time it may take to complete each.  
1. Technology
This section will help you assess the areas of your business where digital solutions have advanced. If a standalone or organization-wide digital solution has improved a particular aspect of your organization, check the corresponding box, then click "Next."
2. Strategy
We are trying to understand your overall vision for digital transformation and the planning you have done to achieve it. For this category and each of the next 5, rate your response on a 5-point scale.
3. Data
Data accuracy is a vital component of any business. This category measures how well you use the data your organization collects, who handles it, and whether or not the information is easily accessible.
4. Operations
In this section, you will be asked to take a high-level view of the flow of information and processes within your organization. You will want to consider how your automation systems fit into this picture and how well they support visibility.
5. Employees
Because your employees are your greatest asset as an organization, we developed this portion of the survey to gauge your approach to employee enablement against industry standards. The questions here address automation, remote accessibility and user-friendliness.
6. Customers
To establish an excellent brand reputation, you must deliver exceptional customer service and satisfaction. Indicate your agreement with the statements provided as you consider how well you communicate and align with the clients you work with.
7. Culture
It is another section dedicated to looking at your organization holistically. We want to understand how well you can adapt to changes and use technology to your advantage when necessary.
8. Investment
It is essential to understand how much effort your organization requires to digitize its business processes. Please help us know where you stand in establishing best practices by indicating your agreement with the following statements.
Interpretation of Results
Upon completing the assessment and entering a few more details, you will look at your personalized results page. The colour-coded scale at the top indicates where you stand regarding technological maturity—from "Non-Existent" to "Advanced"—with an accompanying percentage that shows how far you have come toward technical maturity.
You will see an average score and a range of scores in each category to compare your performance against other top companies. At the end of the page, you will find a chart that shows how your company compares to other industry organizations based on IDC's findings on Global Food & Beverage Industry Trends.
Building a Roadmap for Digital Transformation
Now that you understand how your technology deployment compares to others in the industry, you have compelling reasons to speed up your efforts to surpass the competition. IDC's research revealed several findings that indicate you can do so by improving various aspects of your IT infrastructure.
For example, responding companies reported improvements in key performance indicators related to general business intelligence, direct-to-consumer revenue, overall equipment effectiveness and procurement efficiency. Companies engaged in digital transformation also reported more substantial gains in food safety performance.
Respondents to a recent survey reported tremendous financial success in their organizations as digital transformations proceeded.
The report demonstrated the power of industry-specific ERP solutions as the basis for a digital transformation. Cloud implementations of an industry-specific ERP delivered the best results, with an average revenue increase of 3.3%, compared to 1.7% for on-premise installations.  
The preceding information should help you to make a well-informed decision. Acumatica, available in both cloud-hosted and on-premises deployments, offers many features to help your company succeed.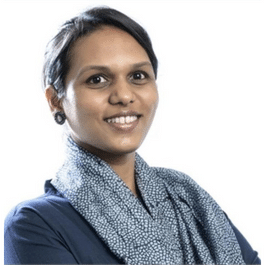 Sangeetha brings 20 years of experience in Information Technology which includes Solution architecting, building micro services, research, and evaluation of business applications, integrating apps.