Software for the Nutraceutical industry is essential to keeping up with state-by-state regulations.
Acumatica Erp for the nutraceutical manufacturing industry. It combines powerful manufacturing capabilities with flexible business management tools to run your entire business.
Nutraceutical manufacturing software that tracks ingredient quality and manufacturing procedures
Acumatica is a software solution for the manufacturing of nutraceuticals. Acumatica offers full end-to-end traceability and improved productivity in processes and procedures.
Track an unlimited number of products through the inventory with lot numbers or serial numbers, such as those used on ingredients used in manufacturing.
Track material lots through their entire supply chain by linking them directly to suppliers, through outsourced vendors or to customers by lot or batch number.
When managing inventory by number, you can optionally capture the lot or serial number at the time of shipment.
Source, expiration date, lot and inspection/quarantine information can be managed, viewed and reported. Tests can be certified and specifications referenced.
Pre-assign specific lot or serial numbers to inventory intended for shipping, or allow warehouse staff to pick lots and serial numbers when shipping stock.
Use a mobile computer with a built-in barcode scanner to read the serial, lot and item numbers from barcodes.
Nutraceutical manufacturing software with Acu process manufacturing
Acumatica manufactures software for the pharmaceutical, nutraceutical, and medical device industries. It handles batch processes and provides a comprehensive range of features for managing the manufacturing process from start to finish.
Handle variations in ingredients to account for changes in the amounts of various items.
With variable recipe and yield capabilities, the new models are designed to meet the needs of restaurants and consumers.
Allow for spillage and waste when preparing food.
Handle multiple inventory lots of the same ingredients
Nutraceutical manufacturers can use software that tracks ingredients and costs at different levels.
Acumatica nutraceutical manufacturing software offers a flexible and multi-level bill of materials.
Sales records must be updated whenever the Bill of Materials changes, and customers should be notified of the changes.
Unlimited components in the Bill of Materials
The elements, the completed product, or both may be serialized to maintain accountability.
Nutraceutical manufacturing software designed for use with EDI
Acumatica is a software solution for manufacturing nutraceuticals that integrates an end-to-end, fully-compliant EDI solution.
Eliminate the need for re-keying documents
Order and transaction processing speeds are faster.
Reduce errors and increase data accuracy by optimizing your reporting processes.
Our software offers a comprehensive business solution to help streamline your nutraceutical manufacturing operations.
Purchasing
EDI
Inventory control
Warehousing management
Order management
Picking, shipping & tracking
Customizable dashboards & extensive reporting
Customer service management
Acumatica is a complete business software solution that helps manufacturers manage manufacturing, product lifecycle, sales, and distribution. Acumatica is a powerful, affordable, and feature-rich business management solution that can help you run your nutraceutical manufacturing business.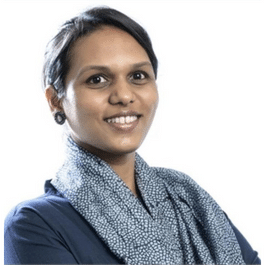 Sangeetha brings 20 years of experience in Information Technology which includes Solution architecting, building micro services, research, and evaluation of business applications, integrating apps.