In a recent report, the FDA warned companies to focus on data integrity. The agency cited failures to ensure the accuracy of the information in warning letters it issued last year and predicted that regulatory agencies would continue to make data integrity a priority. To avoid penalties and keep your company in line with regulations, you must prepare a process and document management plan that is fully aligned with regulatory requirements. The first step in creating this plan is gathering all the policy and procedure information. This way, you'll be able to develop a healthy baseline for total compliance in the pharmaceutical industry. A commercial pharmaceutical company must follow strict guidelines to ensure its products meet the highest quality standards. A pharma organization can leverage an electronic quality management system (eQMS) and quality unit to streamline complex requirements and ensure compliance with industry regulations.
Essential Regulatory Compliance Tools for the Pharmaceutical Industry
While specific compliance guidelines may differ from organization to organization, there are several common elements:
Your company needs a computerized system to implement quality management and serve as a comprehensive database.
Also essential to the quality system are a management unit overseeing its implementation and an evaluation unit assessing its effectiveness.
Organizations in the pre-commercial stage can benefit from adopting compliance processes and systems that can scale to future requirements.
The essential point of eQMS is:
To maintain quality management systems (QMS) and meet regulatory requirements, the pharmaceutical company should implement an electronic quality management system (eQMS). FDA's Compliance Program Guidance Manual (CPGM) 7356.002 states that an eQMS should:
Include the quality control and all quality unit review and approval steps in the process.
Assure the quality of a product by governing its manufacture.
Ensure the company complies with cGMPs and SOPs.
Pharmaceutical startups often delay implementing an electronic quality management system, but this decision is frequently mistaken as resources usually focus on development. Implementing a pharmaceutical-oriented quality management system at your organization's core can simplify compliance procedures later. Retrofitting a paper-based quality system onto an electronic QMS is nearly always more expensive, time-consuming and complicated than implementing an electronic QMS from the start.
The benefits of using an electronic quality management system (EQMS) include:
A paper-based approach to applying a quality management system may have been sufficient for smaller pharmaceutical companies in the past. Still, it can significantly increase the risks of noncompliance with current Good Manufacturing Practice (cGMP) regulations at regulated organizations.
Implementing an eQMS during the development phase can introduce efficiency and effectiveness and enable the organization to meet compliance requirements. Some of the benefits include:
Global-scale processes connected.
More competent document and data management
Better document and data management
CAPA capabilities
The second essential is to buy a quality unit.
The quality control department is responsible for managing records related to compliance with regulations and your company's standards. In addition to performing GMP audits of other departments, the QA unit must be able to conduct risk assessments and report on deviations from cGMPs. The quality unit is a team of people who work together to ensure that the drugs being made are safe and effective. They monitor the quality control steps other departments take, such as manufacturing and packaging, so that only high-quality medicines leave the factory.
Establish a quality control system.
Audit the quality management system to ensure compliance.
Develop a set of standard procedures for your organization.
Review and implement all cGMP
Investigate the root causes of nonconformity
Regular report to management on the status of your projects.
Update Standard Operating Procedures.
The pharmaceutical quality unit is an essential compliance tool every company should have. It helps to ensure that all regulations are met, so it's crucial for the success of any organization. You can face many compliance issues or product quality problems if you don't implement and maintain a comprehensive quality unit.
The compliance benefits of the pharmaceutical industry
A total compliance system for the pharmaceutical industry is essential for organizations of any size. This system requires the adoption of an eQMS and a quality unit during development. By adopting these elements in the development phase, pharmaceutical startups can avoid the costs and time-consuming problem of adopting compliant systems or implementing new approaches in the future.
Quality and compliance are two sides at any size or stage of your organization. A quality culture will help you avoid the risks associated with non-compliance and costly financial penalties. It can also drive operational efficiency, superior product quality, and more effective collaboration. Compliance may be a requirement, but tools like quality program management can help you achieve both objectives while building healthier cultures that support robust profits.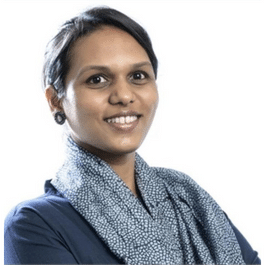 Sangeetha brings 20 years of experience in Information Technology which includes Solution architecting, building micro services, research, and evaluation of business applications, integrating apps.