The development of COVID-19, a modified version of the live attenuated influenza vaccine (LAIV), will have a considerable effect on the pharmaceutical manufacturing industry; however, the influenza pandemic has provided an opportunity for manufacturers to demonstrate what they can accomplish through collaboration and technology in overcoming these unique challenges.
Content
Brief Introduction
What is a Pharmaceutical Quality Management System
Benefits of implementing a QMS
The importance of the proper use of quality control measures
Brief Introduction
The pharmaceutical industry has come under great pressure as a result of the ongoing pandemic, and COVID-19 only exacerbates this stress. Buying a tailored pharmaceutical QMS system is one way to help manage this pressure while staying ahead of the competitors and maintaining a high level of quality.
Pharmaceutical organizations that wish to improve their quality practices, document procedures, streamline workflow processes, inspect materials, implement corrective measures, and ensure compliance must implement a quality management system.
Familiarize yourself with the term "Quality Management System"
What is a Pharmaceutical Quality Management System?
A quality management system (QMS) is a set of policies, procedures, and responsibilities that coordinate and direct an organization's activities according to its quality goals. QMS helps ensure that the organization meets customer and regulatory requirements, improves effectiveness and efficiency and strives for continuous improvement. (Source: https://asq.org/quality-resources/quality-management-system)
ISO 9001:2015, the international standard specifying requirements for quality management systems, specifies a QMS. While some use the term "QMS" to describe the ISO 9001 standard or the group of documents detailing the QMS, only the entire system is called a QMS. The documents only serve to describe it.
Benefits of implementing a QMS
A Quality Management Software system that is efficient makes a positive impact on all levels at which structures, methods, techniques, policies, procedures, processes, and resources are concerned. This ultimately results in responsibilities being aligned with environmental, quality, and product safety standards. Other benefits of using QMS like Acu Process Manufacturing Software
Operational Performance Growth
Waste Reduction
Premium Quality Product
Higher Customer Satisfaction
Fast Training of new employees
Developed processes, products, and systems
Compliance with Industry best standards
Flowless Internal Communication
Using a pharmaceutical quality management system ensures the required quality of your product.
A quality management system makes sure that the company's products meet market standards and customer expectations. Quality assurance methods are applied to insure against defects and ensure documentation on steps taken to resolve issues.
A strong pharmaceutical quality management system (QMS) benefits businesses by helping to ensure the integrity of their products, allowing new products to be brought to market more quickly, reducing the time and cost of managing documents, facilitating identification and resolution of problems, confirming the quality of suppliers' processes, and facilitating employee upskilling via effective training.
Let us examine in detail the various modules of Dragon NaturallySpeaking.
The General Nonconformity Management Process
As a quality assurance measure, this feature of pharmaceutical QMS provides documentation of product issues as they are identified through the quality control process and ensures that these issues do not recur in the future.
Managing CAPA
Pharmaceutical companies use quality management systems to detect product failure and ensure that defects do not occur again. With CAPA management, companies make sure that they have a procedure in place to deal with non-conformance issues. See the demo.
Document management services
The QMS system helps manufacturers manage business-critical documents. They can store, create, track, retrieve, and manage all types of organizational documents throughout their life cycle. Manufacturers can maintain the audit trails of viewed documents using e-signature, passwords, etc.
Get the document management overview in this Acu Process Manufacturing Demo. See the demo.
Managing Changes & Development
Change management is an important part of any pharmaceutical quality management system because it helps manufacturers to maintain their quality standards while keeping up with current regulatory compliance. Manufacturers can easily implement the practices that have been improved and incorporate them into their existing processes and workflows so that they can continue to fulfil all of their needs while also ensuring that all of their associates are kept informed of the changes as they happen.
Managing Audit Process
The Pharmaceutical QMS Audit Management System generates audit reports required for inspection by the regulatory bodies. The system enables organizations to keep track of different phases of compliance on a daily, weekly, or monthly basis.
It's a critical and complex process. Learn how Acu Process Manufacturing helps in the audit process. Join the demo call now.
Training Management for the employees
Training management systems provide an easy-to-use database that helps businesses identify training requirements, track employee training sessions and certifications, organize training sessions and curriculums, and much more. As a result, companies benefit from increased employee productivity and reduced workload.
Feedback & Complaint Managements
To keep customers pleased, businesses practice quality management and implement quality management systems. Quality Management Systems (QMS) provide the framework to register, manage, track and close client complaints while providing compliance capabilities to improve efficiency and effectiveness.
Uncertainty & Risk Management
Prioritizing identification, assessment, and elimination of risk factors helps firms ensure seamless business operations and meet desired quality standards. However, neglecting even minor or seemingly inconsequential hazards might jeopardize a company's complete workflow. A quality management system that incorporates risk management can help companies mitigate risks and prevent those risks from becoming full-blown crises. In all your requirement Acu Process Manufacturing will help you manage efficiently.
About Tayana's Acu Process Manufacturing
Acu Process Manufacturing Suite from Tayana Ltd. is a suite of manufacturing software. The software extends the original inventory management component of Acumatica's xRP platform for the enterprise resource planning (ERP) market with specific functionality for process manufacturing. Connect Now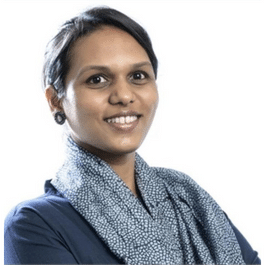 Sangeetha brings 20 years of experience in Information Technology which includes Solution architecting, building micro services, research, and evaluation of business applications, integrating apps.