Food and beverage companies must now provide full transparency regarding the ingredients in their products. In the past, some brands have relied on product packaging to communicate nutritional information to consumers, but in today's marketplace, brands cannot afford to conceal their sources of ingredients.
The European Union has made complete transparency in farming and food labelling a legal requirement. The Farm to Fork Strategy is part of the European Green Deal, which aims to make food production more sustainable, decrease greenhouse gas emissions, and mitigate biodiversity loss.
The drive for transparency and accountability in supply chains is not limited to businesses with operations in the EU. The issue is global, and there are several reasons behind the increased importance placed on this area of operations.
In the current marketplace, food and beverage manufacturers must be able to verify the origin and quality of the ingredients they use. Acumatica ERP technology provides manufacturers with a transparent supply chain which enables them to trace products from farms to a processing facility, through distribution and finally to retail outlets.
Ensuring regulatory compliance
The Farm to Fork Strategy is a legislative framework designed to create sustainable food systems across Europe. The European Commission has also agreed on a contingency plan to ensure food supply and security in the event of a crisis, specifying that by 2020, pesticide and antimicrobial use would be cut by 50%, and fertilizer use would decrease by 20%. To increase farmland under organic practices, the Commission has committed to improving these practices by 25% by 2020.
Meanwhile, the Food and Drug Administration (FDA) is preparing to enact the New Era of Smarter Food Safety by formally establishing food traceability as a critical part of current regulations. This edition includes creating a 16-item Food Traceability List of problematic ingredients and essential concepts like Key Data Elements and Critical Tracking Events to ensure careful supply chain management.  
To help reduce the adverse effects of violating regulations., transparency is essential. This can be accomplished through open communication with relevant parties and ensuring that all facilities comply with government regulations.
Quality and safety are our top priorities.
As a business, you must be able to track goods as they move through the supply chain. This is a legal requirement, and demonstrating that you can do so shows transparency and trustworthiness. Following established best practices is a good idea since this can lead to the creation of consistently excellent products and uncompromising food safety.
With complete visibility into the materials you use and their journey from origin to destination, you can better ensure that the materials you use are suitable.
Transparency in supply chains will help you trace and isolate contamination more quickly, giving you a key advantage over competitors. When you have complete data, the recall process will be streamlined and more accurate. You will also be recall-ready to identify goods that have been affected and release them downstream while issuing all important notifications to relevant parties.
Target well-educated, affluent, and socially conscious consumers
Food and beverage companies face many challenges in today's crowded marketplace. To succeed, you must set yourself apart from competitors and meet consumers' demands better than other brands. Greater transparency is the way to do this—more and more shoppers today want companies that communicate openly and honestly.
According to Innova Market Insights and a market research company, 94 per cent of consumers prefer to do business with entirely transparent companies. In addition, 73 per cent of consumers are willing to pay more for products marketed with complete transparency. Moreover, 6 in 10 global consumers are interested in learning more about where their food comes from.
Transparency can be a crucial differentiator for any business. Your brand's reputation will improve when customers know that you are honest about your products and practices and are fair and fully disclosed. This will lead to more sales and better profits. 
How ERP can help you meet transparency demands
At Tayana Solutions, we champion enterprise resource planning software as the best foundation for digital transformation. An Acumatica ERP system can help you maintain total transparency both internally and externally by storing and updating all of your data in a single, unified system. You can use this information to drill down into product and material details anytime, so relevant information is conveyed to consumers and enforcement agencies.
Our Tayana Solutions Food & Beverage ERP comes with tools for maintaining compliance, complete traceability forward and backwards along the supply chain, quality assurance and food safety.
We can deploy our offering on a software as a service (SaaS) model to maximize your flexibility, mobility and uptime while minimizing your costs. Our dedicated IT professionals are also known for their security expertise and reliable uptime.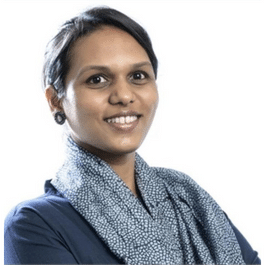 Sangeetha brings 20 years of experience in Information Technology which includes Solution architecting, building micro services, research, and evaluation of business applications, integrating apps.