Food manufacturers are increasingly concerned with meeting consumer safety regulations and providing customers with a wide range of products that meet their specific tastes. Organizations like the Food and Drug Administration conduct inspections to verify that manufacturers comply with relevant regulations.
In addition to ensuring customer safety and compliance with standards, audits are also performed for other reasons, including: 
Marketing strategies.
Reevaluate priorities for operations.
Identify and isolate the problem.
A sincere commitment to improving the product.
There are many reasons why a food and beverage manufacturer might fail an audit—but with good preparation and planning, you can ensure success.
Five common reasons why food manufacturers fail audits: 
1. human errors 
Although human errors are inevitable, businesses can take steps to minimize the chances of mistakes occurring. By using automated data collection systems, companies can reduce the time spent manually entering data, enabling them to spend more time generating accurate information when needed. A lot tracking system—in which barcodes are scanned at every stage in the shipping process—is an effective way for companies to track their inventory and avoid mistakes caused by human error.
Businesses must have trained staff and a robust inventory management system to ensure efficiency. New technologies such as direct store delivery can help keep your operations running smoothly and reduce the paperwork your employees need to complete.
2. The failure to comply with regulations 
The perishable food industry is a fast-paced work environment that is incredibly competitive. If a business owner does not adhere to all the safety rules and regulations, the business may be at risk of suffering product recalls or shut-downs. In preparation for an audit, ensuring compliance is getting in the way of usual business processes should not feel like ensuring compliance. After all, non-compliance can equal product recalls or shut-downs.
When your business practices aren't up to date with the latest regulations, keeping track of all the changes can be challenging. Automation and cloud-based technology can quickly identify what needs to change, free up your time for identifying solutions, and help you get ready for audits.
3. Failure to follow HACCP procedures 
Hazard Analysis and Critical Control Points (HACCP) is a preventive control system that helps prevent foodborne illness, which can occur if food companies do not effectively identify and control food safety hazards on their premises. Food companies are required by regulation to review their HACCP plans for continued improvement. Failure to identify and effectively control those hazards can result in dire consequences.
Digitizing all required documents and storing them in an accessible location will ensure that the transition is as smooth as possible, providing that no information is missing.
All food service employees should know where the Food Safety Plan is located, what they are responsible for (e.g., updating cleaning schedules, filling out temperature logs) when they need to do it, and to who to report issues. These documents may be helpful during a health inspection, so store them in a safe place.
It is essential to conduct internal audits of your food safety plan at least once annually to verify that it is working as intended and to identify opportunities for improvement. After identifying these opportunities, adjust your plan accordingly, and implement the necessary changes.
4. Supplier management is a significant challenge for many companies. 
Food manufacturers must ensure that their suppliers adhere to the same safety standards. Data mining will help identify where to find the best quality supplies, and artificial intelligence can connect manufacturers with suppliers and customers. This will result in more products consumers want reaching them in better condition.
In the event of a recall, effective lot tracking limits its scope. A manual approach was sufficient when a business was small, but as the business grows, so do the problems associated with a manual process. Spreadsheets are an example of this type of system. Mistakes made in data entry can lead to disastrous scenarios that impact the business and customers. Lot tracking software can help manufacturers, wholesalers, and retailers keep track of their inventory, providing an overview of their supply chain and allowing them to stay organized.
5. Lack of proper documentation and organization. 
As part of preparing for an audit, companies need to be able to access all relevant data in a single management tool quickly. Since audits can happen at any time, companies need the ability to promptly locate and compile data from other departments, which is impossible if that data is stored in disparate spreadsheets and databases.
Security: Tailored to today's role-based activities and security concerns. 
Configuration: Direct store deliveries, mobile workforce management, and workflow automation. 
Visibility: Route and customer information, route location, and service status are available in real-time. 
Survey: Roll out and manage Direct Store Delivery and customer surveys.
Reporting: Provides advanced reporting on activity and routing. 
Documents: You can easily create or recreate route activities and customer documentation with a single click.
Prepare now for your upcoming audit. 
As a business grows, tracking and organizing data can become harder. If you have a business intelligence tool that produces clear, concise reports, you will be better equipped to understand and make decisions about your company's performance.
Acumatica ERP offers an advanced traceability solution for warehouse inventory. It gives you greater control over your operation, helping to prevent wasteful orders and keep up with government regulations and store policies.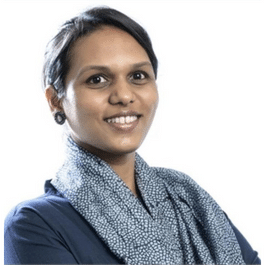 Sangeetha brings 20 years of experience in Information Technology which includes Solution architecting, building micro services, research, and evaluation of business applications, integrating apps.