The business environment of the pharmaceutical industry is constantly evolving, empowering consumers to access unlimited information. The digital revolution has caused a drastic shift of power from business heads to consumer demands as today's highly competitive environment provides enough impetus for choice. Hence, a need is built for diligent insights into consumer behaviours, giving businesses an added advantage over competitors. It, combined with the need for a comprehensive system that collects pertinent information through systematic channels, has brought innovations like cloud migration into prime focus in the pharmaceutical industry.
Pharmaceutical companies are one of significant beneficiaries of cloud computing. Cloud computing, an emerging IT technology, makes it easier for pharmaceutical companies to develop new drugs and improve customer engagement. Pharmaceutical companies have revolutionized their business using digital tools and cloud computing to create personalized medicine.
Here are some significant advantages for pharma businesses that move to the cloud:
Improve Flexibility in business operations
The cloud is ideal for fluctuating demands, as it can adapt to meet your needs. If you're hosting fewer data at once and need less capacity, the service can quickly reduce its resources accordingly. It means that no matter what your organization's needs are at a given moment, you don't have to worry about overpaying for storage or other features – access precisely what you need whenever you need it.
With its cloud-based solutions, organizations can modify the level of service they require in terms of CPU and storage capacity. If the need increases, it is easy to scale up the server capacity and vice versa. You can assign the right resources based on your organizational needs without making any capital expenditure or investing in additional infrastructure.
Highly Secured Data Management System in Cloud ERP
With the increasing popularity of cloud computing, many businesses are taking advantage of its Flexibility and efficiency. However, security risks such as hacking, data theft, and identity theft often set an organization back by crores due to loss of equipment and sensitive data. Cloud computing provides greater security in such an occurrence. Due to the parametric nature, only those who have set the functions can access it, thus protecting data from external theft.
Cloud computing provides greater resource control, Flexibility to add or remove capacity, and lower costs than traditional IT approaches. Cybersecurity is essential with cloud computing because you have less control over your data once it is stored elsewhere or accessed through remote servers. The only way to truly protect sensitive data in the cloud is by implementing strict security controls, including data encryption and monitoring at every level.
Efficiency Improvement with cloud ERP
Cloud ERP is a cost-effective and highly scalable solution for all your business needs. Cloud computing, which enables automation of business processes that help in reducing redundancies resulting in better performance, is a preferred model for implementing the cloud ERP system. In the cloud environment, real-time monitoring further aids in making better business decisions.
With early access to a wide range of data, businesses can gather actionable insights about performance systems and plan their future strategies accordingly. It makes business decisions and processes more robust and transparent.
Mobility with Cloud ERS Systems
Mobility is an essential aspect of cloud technology. One can access business data while working on it from around the world with a good internet connection. It helps in the smooth functioning of business meetings and plans across countries.
One of the key benefits of cloud computing is mobility. It allows you to access business data from anywhere and work upon it, be it your office setup or travelling. With a good internet connection, you can easily share work documents across teams and plan meetings from anywhere.
Highly Satisfactory
The cloud has given us the power to lower our costs and innovate faster. By working in the cloud, start-ups and other companies can go from idea to pilot in weeks and then scale to millions of users worldwide. With cloud computing, even a company starting can build a product or service at an affordable price point.
The pharmaceutical industry needs to decentralize its IT infrastructure to support global business objectives in today's digital economy. Traditional client-server architectures require firms to build and maintain expensive data centres globally, which can be time-consuming and distract from core objectives. However, cloud computing provides a scalable, on-demand service that improves web performance for users regardless of location without spending significant capital investment on additional data centres.
Helps in pharma products and development
As the pharma industry shifts to accommodate a more complex, multi-faceted approach to drug research and development, the cloud has developed as one of the most promising solutions. The cloud is built to address healthcare challenges by incorporating features such as secure collaboration tools, data analytics and Acumatica. 
Acu Process Manufacturing is a pharmaceutical company with expertise in designing, developing and manufacturing novel medicines to treat multiple forms of cancer. The company uses cloud infrastructure and application platform services to help them collaborate very closely, collecting and analysing data from diverse sources and expediting the clinical trials required to bring a drug safely to market. 
At Tayana Solutions, our team of cloud experts can build a custom cloud strategy that meets your business needs. We offer cloud solutions across various industries, including pharmaceutical and medical devices, government and defence, financial services, and more.
Book a demo call now: https://www.tayanasolutions.com/contact-us/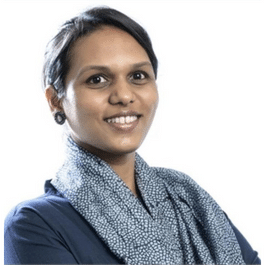 Sangeetha brings 20 years of experience in Information Technology which includes Solution architecting, building micro services, research, and evaluation of business applications, integrating apps.