Acu Process Manufacturing Cloud ERP provide companies access to their business-critical applications anytime. With real-time visibility into daily data and processes, users can more easily maintain compliance, reduce costs, and optimize performance.
Acu Process Manufacturing provides full-featured and scalable cloud ERP software for manufacturing companies. Our platform integrates every department under a single roof, acting as a central repository for companies' critical business data. Cloud ERP makes it easy to access information from any location, adjust access permissions as needed, and quickly scale your software as your business grows.
Acu-Process Manufacturing is a leading provider of industrial real-time software that helps companies streamline their manufacturing operations. For many years, Acu-Process has evolved to be the preferred ERP solution in the manufacturing industry, providing unmatched functionality while effectively managing all manufacturing processes, including materials management, production scheduling and control, inventory management, quality assurance and shop floor control. 
APM is a leading provider of cloud-enabled business software that helps businesses increase production, decrease costs and improve workflow efficiency by enabling greater visibility and control of business operations. For example, we offer cloud-based ERP software solutions to help companies streamline processes and increase productivity.
Cloud ERP system is a modern, reasonable costing, and advanced solution for companies operating in today's digital economy. Cloud ERP helps you dramatically reduce the cost of managing critical business processes by using a modular approach to help you decide what to adopt and when.
ERP is a software system that provides an integrated approach to management, control and visibility over all business processes. It helps companies optimize their resources and streamline their business operations. ERP is used across multiple industries worldwide, primarily by large organizations with complex and dynamic supply chains.
ERP system software is an integrated business solution for companies that need to manage multiple departments and functions. ERP can help any organization manage resources across the enterprise—including HR, finance, manufacturing and more by unifying various parts within one platform. It's the best way for organizations to reduce costs through streamlined processes, minimize risks by improving data security and accuracy, increase efficiency through real-time responses, and track vital business information anywhere in the company.
What are the edges of Cloud ERP?
Acumatica Cloud ERP leverages the power of the cloud—yet it is entirely customizable. The end user interface, or GUI, of Acumatica is flexible and can be customized to fit in your unique business ideas. Plus, with the flexibility to add your extensions and integrations using open APIs and plug-ins (such as Asset Management, Mobile App, and Microsoft Dynamics 365), Acumatica can adapt to the ever-changing scope of your business.
When Companies can implement Acumatica Cloud ERP General Business Edition or choose editions tailored to their specific industries' needs, including Manufacturing and Distribution, Construction, Retail and Restaurant Management, Healthcare, Transportation and Warehousing, each of these editions is enriched with industry-specific features so they can start up and run their business immediately.
The actual cost of ERP software is the time, money, and effort spent on implementation.
The total cost of a Cloud ERP system is difficult to estimate because it depends on factors such as the company's size and industry and the type of software chosen. To justify in ERP investment, companies should examine not only the base price of their software but also its return on investment (ROI).
Businesses should review the pricing structures of different ERP systems. Hidden costs can include, among other things:
A significant amount of time and money may be required to implement, learn, and maintain the ERP system. You will also need to budget for future customizations, upgrades, and ongoing training and consulting services.
Choosing the right ERP for your business can be a challenging task.
When evaluating an ERP system, you should consider several factors, and this process will occur in several steps.
The 1st of the ERP research process is weighing various solutions' costs. Once you've reached the first step, you've probably already decided that Cloud ERP Software, with its ability to manage your businesses and spur decision-making, is the best choice, for instance, simple accounting software like QuickBooks.
The 2nd step is an ERP Evaluation: comparing ERP solutions side-by-side. All employees using the system should be included in the process. These opinions and suggestions based on their frontline experience with our business will go a long way towards helping you make an informed—and supported—decision. A good way to manually evaluate systems is to create an ERP Comparison Checklist.
The third step in an ERP implementation is to select the system. Keeping budget, timeline and company need in mind; you'll evaluate whether the solutions at the top of your list meet your expectations. Here we have some questions to ask when we buy cloud ERP software:
Does this solution address existing industry problems?
Does the solution address the needs of different roles in the industry?
How will it accommodate the reporting and analytics needs of my business?
Can the ERP solution interact seamlessly with other applications?
When evaluating ERP software, you should consider the software solutions and vendor's capabilities.
When selecting an ERP system, the ERP software vendor must be considered. A vendor should not only sell ERP software that meets your business requirements. It must be a partner and not a predator. In a recent whitepaper, analyst Brian Sommer writes: "Great cultures can be found in yoghurt, milk, and some firms. Unfortunately, other great cultures don't always exist in technology firms you've come to rely upon. And if you do business with a new technology firm with a bad culture, it could be a costly, frustrating, long-term decision."
If you choose a vendor who proves to be less than ideal, Brian says it's essential to accept that you made a mistake and move on. He says, "Vendors with a greedy culture will create lots of work for you and are hard to deal with."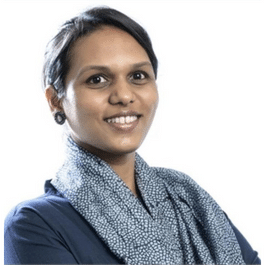 Sangeetha brings 20 years of experience in Information Technology which includes Solution architecting, building micro services, research, and evaluation of business applications, integrating apps.