In today's changing environment, pharmaceutical companies must face challenges that differ from those of other industries. The cloud-based Enterprise Resource Planning (ERP) system for pharmaceutical companies is an excellent tracking and recognition tool for every raw material, from when it is received to when it is shipped to a specific customer location.
Acu Process Manufacturing for Pharmaceuticals offers a complete integrated cloud ERP solution built on Acumatica, which is explicitly designed for the pharmaceutical industry. The platform can help streamline and improve lot properties and other business operations like batch production systems, sales capacities, inventory control, purchasing, quality affirmation and accounting, and regulatory reporting. 
Brief Information about Acu Process Manufacturing by Tayana Solutions.
Acu Process Manufacturing is a cloud-based ERP for manufacturing and distribution businesses. Acumatica brings you a unique, fully integrated, highly customizable ERP solution that's easy to use and compatible with all types of companies. Acu is packed with built-in tools, leading analytics and reporting capabilities to help you run your business better than ever. 
Pharmaceutical companies need cloud-based technology to store and manage sensitive research data.
The pharmaceutical cloud ERP solution complies with Good Manufacturing Practice guidelines and other regulatory requirements, allowing you to improve productivity while maintaining regulatory compliance. 
Have a whole view of all the business techniques
improved batch process management
ensuring nice control
compliance with all guidelines
access to designated statistics on materials so one can successfully manipulate deliveries
boom flexibility and productivity in the course of tactics
Improve delivery chain efficiency and distribution
The benefits of ERP systems in the pharmaceutical industry include:
Formulation, Pre-formulation and the Development of New Drugs
The drug manufacturing process is governed by strict regulations, including guidelines for how employees formulate and monitor raw materials and manage finished product outputs to produce a batch.
In pre-formulation operations, employees must follow rigid processes and procedures.
Defining drug production processes
Defining drug production processes is key to the success of your business. Acu manufacturers quickly limit and track the steps of creating new products, meeting production quotas and complying with FDA regulations. Acu Process Manufacturing can be a one-time project, or you can add modules as your business grows.
Scheduling drug production levels
Acu Process Manufacturing is a cloud-based ERP for manufacturing businesses. Acu offers a powerful solution that helps you transform from a cost leader to a profit maker through collaborative workflows and vastly improved efficiency in today's competitive and fast-changing business environment.
Measuring drug production portions
The Acu Process Manufacturing solution is a cloud-based platform for pharmaceutical manufacturers who want to adopt a one-stop shop for their business. We provide manufacturers with a single source of truth, delivering complete visibility into the performance and health of their manufacturing operations and the company as a whole.
With a cloud ERP system, pharmaceutical companies can automatically manage these formulations while maintaining a minimal margin of error. They can do so without having to keep constant watch over production, which optimizes productivity across the board.
Costing the drug product
There are many factors, including fixing the price of a prescription drug. Companies must consider expenses associated with:
Acu Process Manufacturing provides a cloud-based manufacturing software solution for the operational management of your manufacturing processes. It goes beyond basic ERP to give real-time information on labour, materials and finished products. With Acu, you can track your inventory in real-time, see which materials are available and get alerts when they're running low.
Managing raw input materials
The Acu Process Manufacturing Division is dedicated to managing raw input materials, from sourcing to shipping and distributing finished goods. We employ best practices in handling raw materials; We ensure the care of all products during their journey through our warehouse and distribution network.
Real-time tracking of the supply chain
Our software for the process manufacturing industry helps streamline your supply chain and increase safety, efficiency and profitability. Our real-time tracking software helps keep track of your product from the factory through to the customer by providing a single database of all relevant supplier information, including detailed product specifications and traceability.
Inventory tracking and traceability
Pharmaceutical manufacturers have always been concerned about ensuring proper stock or inventory management. The current pandemic has underscored this concern with several factors: the large numbers of people who need vaccines and medicines, the time-consuming blockages that can occur when products are moved from one place to another, and the potential for overwhelming stock-outs. By implementing cloud ERP, manufacturers can track and trace their productions in actual time; they can also use a serialization system to manage inventory and avoid time-consuming blockages.
Contact Tayana Solutions today for more information and a tailored demonstration of our next-generation cloud-based Pharmaceutical ERP solutions. Book a call now.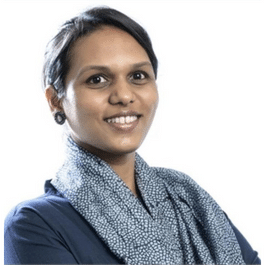 Sangeetha brings 20 years of experience in Information Technology which includes Solution architecting, building micro services, research, and evaluation of business applications, integrating apps.