ERP software for the chemical industry is used to manage company processes, materials, and employees. Acumatica ERP for the Chemical Industry is a powerful, automated solution for managing all phases of your company's operations, from manufacturing to distribution to exports. With its deep understanding of this complex business arena and its long history of helping businesses succeed, Acumatica can help you streamline and automate every aspect of your manufacturing processes, increasing overall productivity and profits. 
Businesses aim to increase productivity and efficiency by investing in automated systems. However, this can be achieved if you understand that ERP software for the chemical industry requires certain crucial aspects to meet your business's demands. They are:
Strict compliance with regulations is essential.
Lot-based inventory management
Formulas can be adjusted to improve quality or efficiency.
Rigorous quality control throughout the production process
Manage complex manufacturing projects involving quality/quantity variation.
Cost accounting for by-products and recycling.
Shelf-life and reformulation
Research and development
The following are some key features of ERP for chemical companies:
Manage chemical formulations:
Any manufacturing company in the chemical industry that does research and development puts significant time into finding better formulations. The Enterprise Resource Planning software for the chemical industry provides a centralized database for all laboratory activities, including all different formulations and chemical parameters of resultant chemicals. It can also give the expected cost of newly built formulations based on the current raw materials prices.
The software tracks all research for new formulas and recipes for chemicals.
Using report generation tools, you can stay ahead of your competition.
Coordinate sample and quotation requests:
We understand that many chemical companies work based on sending out samples to prospective clients for those clients to provide information about their needs. As a result, these companies can then create quotations based on fluctuations in raw materials prices. We develop databases for these companies that contain information about all the samples sent out and responses from clients.
Supplier samples: Chemical suppliers can provide examples of materials stored in the ERP system and tracked along with the price fluctuations noted in supplier quotes.
Automated Follow-Up: The system can also be configured to trigger follow-up mailings based on prospect tracking details to maximize business from each prospect.
Chemical manufacturing process:
The chemical manufacturing process can be divided into two primary operations: reaction and blending. The ERP software allows you to carry out both activities easily. The ERP also addresses the challenge of varying raw material standards from batch to batch, allowing users to enter production data based on actual quantities consumed and compared against BOM (bill of material) standards. The system calculates critical parameters such as yield, handling loss and cost per unit based on actual quantities consumed. 
It can also alert management to poor performance in any of these areas.
The system will calculate critical parameters such as yield, handling loss and cost using actual raw materials consumed.
The ERP provides end-to-end traceability of the manufacturing process, from raw materials through the finished product.
Chemical Inventory Management
Chemical ERP software is designed for the chemical industry, making it ideal for inventory management. The system maintains the chemical properties of each batch (e.g., concentration or yield) in its item number. The trees and item groups make this program easy to use.
Effective management: ERP for chemical companies also has a specially designed inventory tracking system. It allows storing and monitoring different variants of the same chemical, which can be helpful given that many of these may act as alternatives in other processes.
Quality Assurance / inspection:
We understand that the chemical business needs strong vigilance on quality inspection of the chemicals manufactured and raw materials procured from the market. Our ERP software allows you to define quality inspection criteria for all these items. The management can also make quality inspection mandatory at the time of receipt of raw materials, at any stage of the manufacture processing or even before delivery of chemicals. It helps in standardizing key activities and tasks. It also makes it easier for your workforce to avoid confusion in carrying out these processes.
Chemical businesses can leverage automation and technology to upgrade their operations. ERP software for managing all business processes is an option for companies that want to grow their business with increased efficiency and vital insights into critical functions such as finance, procurement and delivery.
Tayana Solutions specializes in providing custom solutions for manufacturing companies. We provide end-to-end software consulting services, including e-commerce, vendor portal, and quality management software.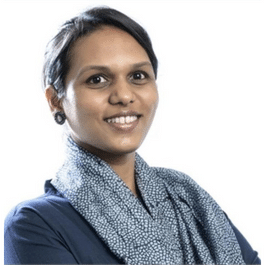 Sangeetha brings 20 years of experience in Information Technology which includes Solution architecting, building micro services, research, and evaluation of business applications, integrating apps.