How can one solution meet the requirements of so many different industries? Though they all belong to the Process Manufacturing industry, their processes are not identical. If one sector manufactures Paints and Coatings, its unique requirements cannot be the same as those of other industries that fall under the Process Manufacturing category. In reality, no two enterprises are similar and cannot be their solutions. Your industry needs ERP software that meets its specific requirements down to a day-to-day level of operations!
Due to its environmental impact, paint and coating manufacturing is highly regulated. A broad portfolio and over-the-counter retail sales pressure manufacturers to constantly innovate greener, customer-specific, cost-effective products while making them available in multiple packaging. The introduction of Globally Harmonized Systems has led to increased requirements for printing safety data sheets, identifying hazardous materials and generating labels for worker safety. Meeting these challenges lies in automation and control over the entire process through an ERP.
An ERP system tailored to the particular needs of the paint and coating industry is crucial. To help you select an appropriate solution, we have reviewed some of the essential features to look for in ERP software for paints and coatings.
1. Managing formulas
The Paint and Coatings industry relies on formulas to produce its products. The ERP should be able to systematically record and maintain procedures, providing flexibility in recording them as percentages, sizes, or both. The system should allow manufacturers to meet their customers' varied formula requirements while maintaining flexibility in scheduling production.
2. Compliance with the gripping requirements of a task.
Printing Globally Harmonized Systems (GHS), Safety Data Sheets (SDS), and labels in the specified formats can be a boon to your business. The ERP should make it easy to comply with the Hazardous Materials (HAZMAT) regulations, Bill of Landing, and Superfund Amendments Re-authorization Act (SARA).
3. Efficient planning helps ensure that a business runs smoothly and on schedule.
The market is shifting from "Make to Stock" to "Make to Order"; thus, the industry is increasingly moving toward manufacturing customized goods. As a result, you need robust planning through an Enterprise Resource Planning (ERP) system for product and co-product management, along with demand forecasting and raw material procurement.
4. Meeting customer specifications is vital to a company's success.
It is crucial to stay abreast of the latest trends and change consumers' needs. An ERP (enterprise resource planning) system should allow you to formulate, manufacture, and distribute products quickly, powerfully, and reliably. The design should be able to perform interactive analyses of your formulations by considering every material in them—including their specifications and relative quantities—during formula development and manufacturing. Weighing the properties of pigments such as volume concentration (PVC) or determining whether a dye is water-soluble are bonuses!
5. Ensuring Quality
Manufacturers should perform quality checks at many points along their supply chain, such as when inventory is received from vendors, kept in warehouses, or delivered to customers. This ensures that the final products meet the targeted colour, yield, and concentration levels.
6. Meeting Packaging Needs
In this industry, the use of containers is widespread. Consequently, ERP systems should support multiple units of measurement with automatic conversion from one department to another, allowing for simplified manual production calculations and ensuring that precisely the amount required in production is issued.
A well-designed enterprise resource planning system with these features will help you improve efficiency and productivity. These systems also help reduce time spent on regulatory compliance, allowing you to speed up product development. Ultimately, you will enjoy improved customer service levels and a more loyal customer base.
Have you considered any other features that a Paint and Coating ERP software should incorporate to meet the unique challenges of process manufacturing? Tayana Solutions specializes in this domain and can address the specific needs of process manufacturers. Contact us if you are in search of a service provider who understands these concerns and can offer patient, helpful assistance.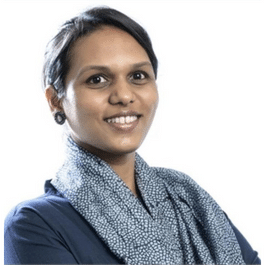 Sangeetha brings 20 years of experience in Information Technology which includes Solution architecting, building micro services, research, and evaluation of business applications, integrating apps.